Similar as a thermostat, the new Monitoring Touch Appliance is mounted on a wall in your edge facility and monitors everything running there.
From the tip of your fingers monitor infrastructure sensors, networks, routers, switches, firewalls, linux & windows servers and web applications.
Wall mountable. Touch enabled. Accessible from any device.
Simple. Efficient. Affordable. Innovative.

Spice up your sensors
monitor, report, log & alert on sensors
The Monitoring Appliance enables you to centrally monitor your different InfraSensing base units and sensors.
On top of that, the device adds reporting and logging capability for the sensors.
Do you have 3rd party sensors? Via SNMP you can monitor them through the appliance. Giving you a holistic view on all your sensors in your edge facility.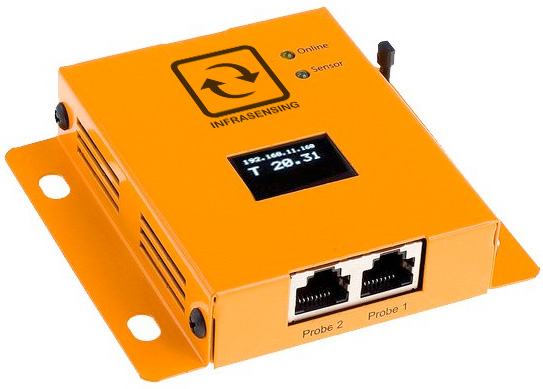 Wide Range of Check Types.
to monitor your Edge Computing infrastructure
– Network: PING, TCP ports, Internet Speed, trace route, domain name expiry & resolution, SNMP
– Servers: CPU, Memory, Disk Space, Services, Processes on Windows and Linux
– Web Apps: URL, HTTP Header, HTTP Status, SSL Certificates, FTP
– E-mail: Receiving & Sending emails (POP3, SMTP, IMAP)
and of course the ServersCheck's InfraSensing environmental, power & security sensors.
and even your sensors from other vendors

User (touch) friendly design
A complete newly designed interface for ease of use and performance.
Simple. Efficient. Beautiful.

Works on any Device.
Get your monitoring data on any of your devices: tablet, desktop and smart phone.

SMS Alerts via Cellular Modem.
What if your network is down? How do you get alerts?
Using an optional USB GSM modem, the appliance will send you the alerts via text messages to your mobile phone.
Simply install and configure your Windows compatible USB modem on the appliance and you're good to go.

Windows 10 64bit on board
The Monitoring Appliance runs on a Windows 10 Enteprise platform.
Unlike other appliances, you have full access to the Windows 10 hosting the software. This way you can harden, secure it to your needs.