CL-800

Overview
Lately the economic-going is getting tough and financial crisis is still lasting, smart enterprises cut costs and boost productivity. An in-house audio conference bridge is no longer a luxury for enterprises; it is the equipment that can reduce enterprises' travel expense as well as providing enterprises a quick, convenient and cost-effective way to communicate with employees, colleagues and clients – around the corner, across the country or on the far side of the globe. Most of Multisuns ConferLink's customers experience a ROI (Revenue of Investment) of only a few months with many added benefits when switching from a service to an in-house system.
Outsourcing your conference calls to a conference call service provider is pricey, inconvenient and insecure. ConferLink provides straightforward bridge solutions for enterprises, governments and militaries. It is truly affordable, fully featured and most of all secure. It can be accessed through internal telephone system or the public telephone switching network.
Benefits
Experience in-house conferencing cost advantage

Reduce travel expense

Assure teleconferencing be truly secure

Complete installation in as little as 30 minutes

Eases on use and administration
Key Feautures
CL-800 v2
Plug and play: Once phone line connection is done, it is ready for servicing.

Meet-me style conference: Participants can voluntarily join the meeting at prescheduled date and time using normal station/mobile phone.

Last-minute style conference: Organizer can call from the meeting room forcefully inviting target attendees to join by using normal station/mobile phone.

Security lock: Organizer can lock/unlock meeting room to prevent/invite additional participant for participation.

Password protection: Administrator, organizer and participants are given with a different password.

Entry and exit tones: Distinct entry and exit tones announce the arrival and departure of each attendee.

Audio announcement of room-full: The voice prompt "… room is full" if the organizer is attempting to call from the room to invite excessive attendee to join the meeting.

Multilingual meeting guidance: Voice prompts in Chinese, English or Japanese are available.

Audio helps: Attendees can activate audio guidance whenever needed.

Computer network connection: Ethernet connection supported.
Discuss II
Hosting of 7 conference rooms max

Supervisor, Administrator and Organizer login IDs and password

Graphical interface to set up CL-800 v2, meeting room, meeting plan, phonebook and more

Unlimited meeting plans incorporating phonebook and scheduler

Capable to call from meeting room for forcefully inviting participants to join

Meeting plan programmable in once, everyday, weekly or monthly basis

Meeting organizer assignable via meeting plan

Auto email notification for upcoming meeting event

Auto redial upon ring-no-answer or busy condition

Meeting plan status real-time on-line display

Meeting plan editing and deleting

Capability of initiating calls to invite participants to join by clicking mouse buttons

Login authentication by user ID and password

Conference room to lock/unlock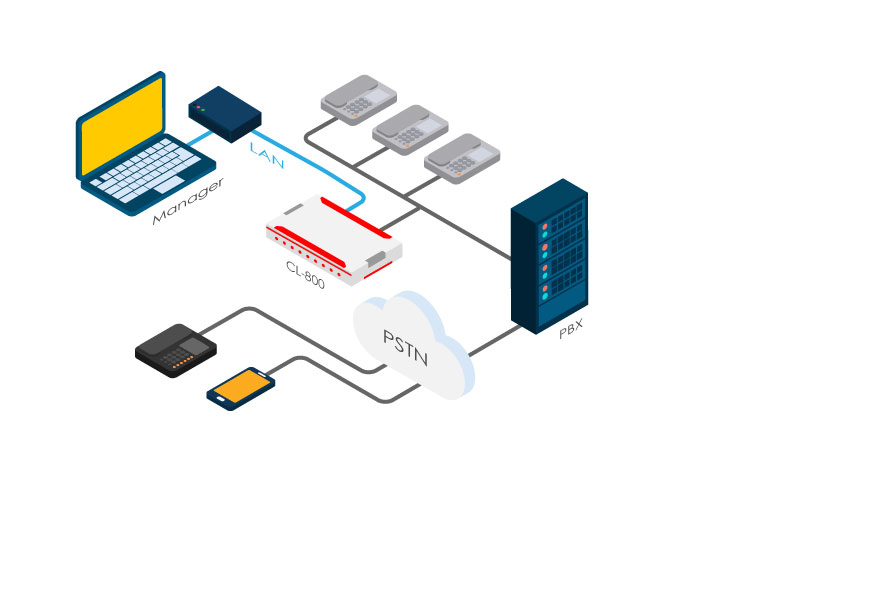 Specifications
Main Body Dimensions:
200 mm × 155 mm × 30 mm
Telephone interfaces:
2-wire analog (Central Office or behind PBX)
Dial and configuration signal:
DTMF 0-9, * and #
Capacity:
8 ports
Power Input:
DC 12V 1A
Working Temperature:
5~40 ℃
Humidity:
20~80 %
Discuss II  system requirement:
Local Area Network connected PC running Windows
---
For inquiries, email us at

info@agdatacom.com
Source: http://www.multisuns.com/cl-800_dg_e.html